Hi everyone~ I'm planning on taking a trip to Europe this summer and I am in serious need of money! Here are various K-Pop and visual kei goods for sale. Please mention me on Twitter @hongbeanster if you'd like to buy something. I ship from Texas, USA to worldwide. :) Feedback can be found here:
http://perfectpeach86.livejournal.com/23897.html
and includes EGL (lolita) sales feedback and some sales from the VK Sales on Facebook page as well. Let me know if you have any questions about the condition of an item or want to see more pictures! Prices do not include shipping. I ship from a non-smoking home. I have one cat but I keep him away from my room and my things.
P.S. I'll be posting this on Twitter and the visual kei stuff will be cross posted to Facebook. Happy shopping. :)
K-Pop (Please ask if you want the poster as well. I can include it folded for no charge, but if you want it in a poster tube it will cost a bit more for shipping.)Block B:
Blockbuster (Limited Edition) $45
Excellent condition. Although I did use the button/pin that came with it so it's a bit scratched up.
Very Good $15
Welcome to the Block $10
Jackpot with B-Bomb Photocard $15 (Photocard only $5)
Official Light Stick $20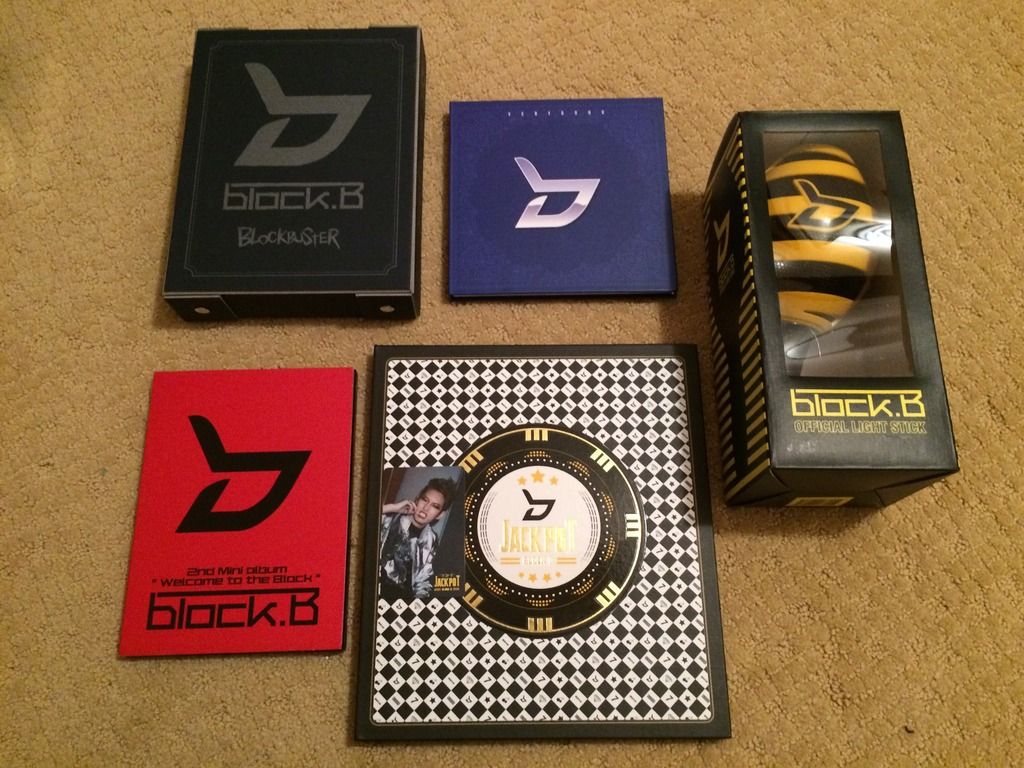 Mutnam Official Block B Goods Hoodie (Size L) $50
Bought in 2011. Used, but I only wore it a few times so it's in really great condition for how old it is! Minor creasing on the print but it's not noticeable in real life.
Stock Photos: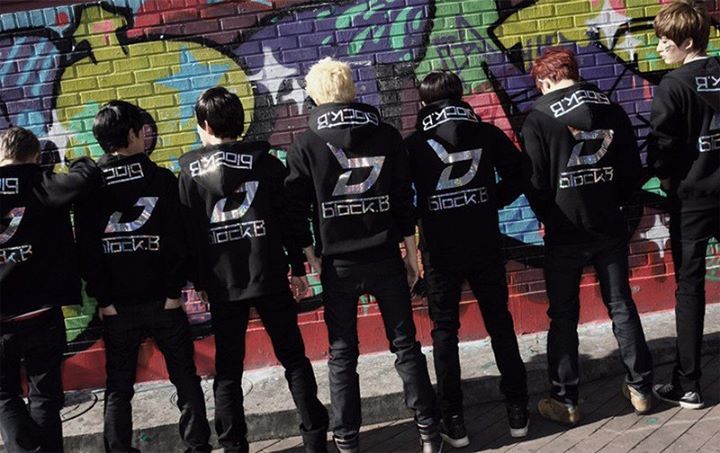 [x]
[x]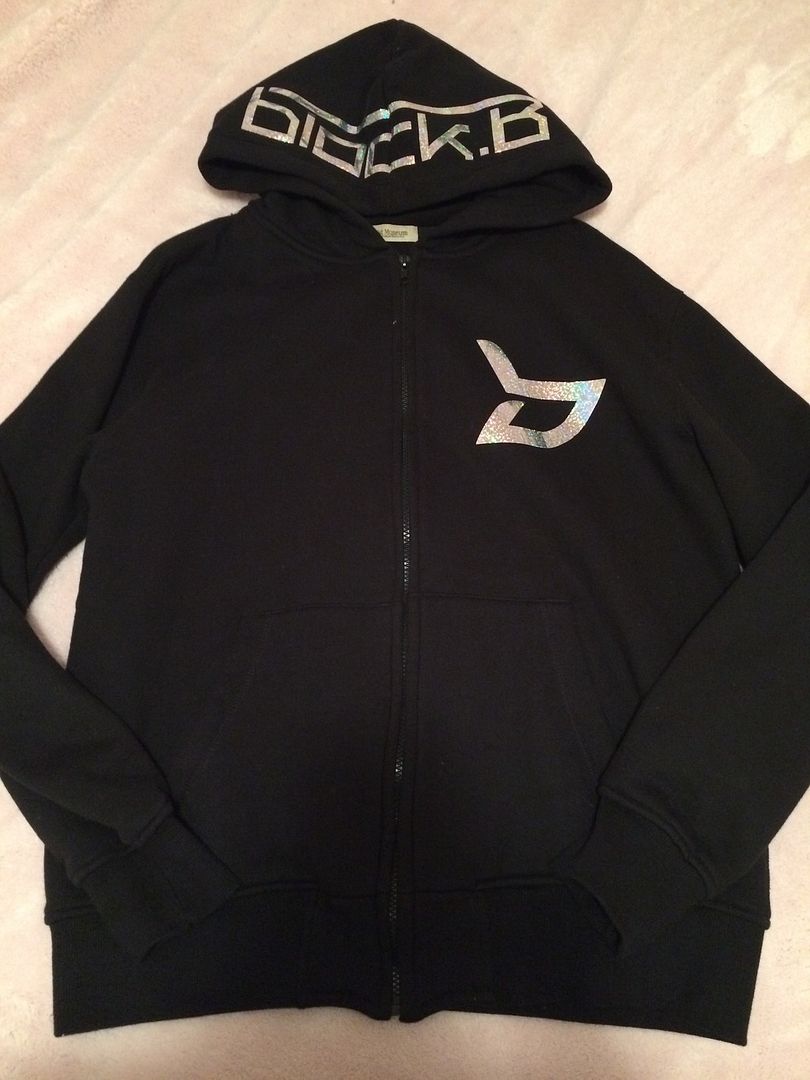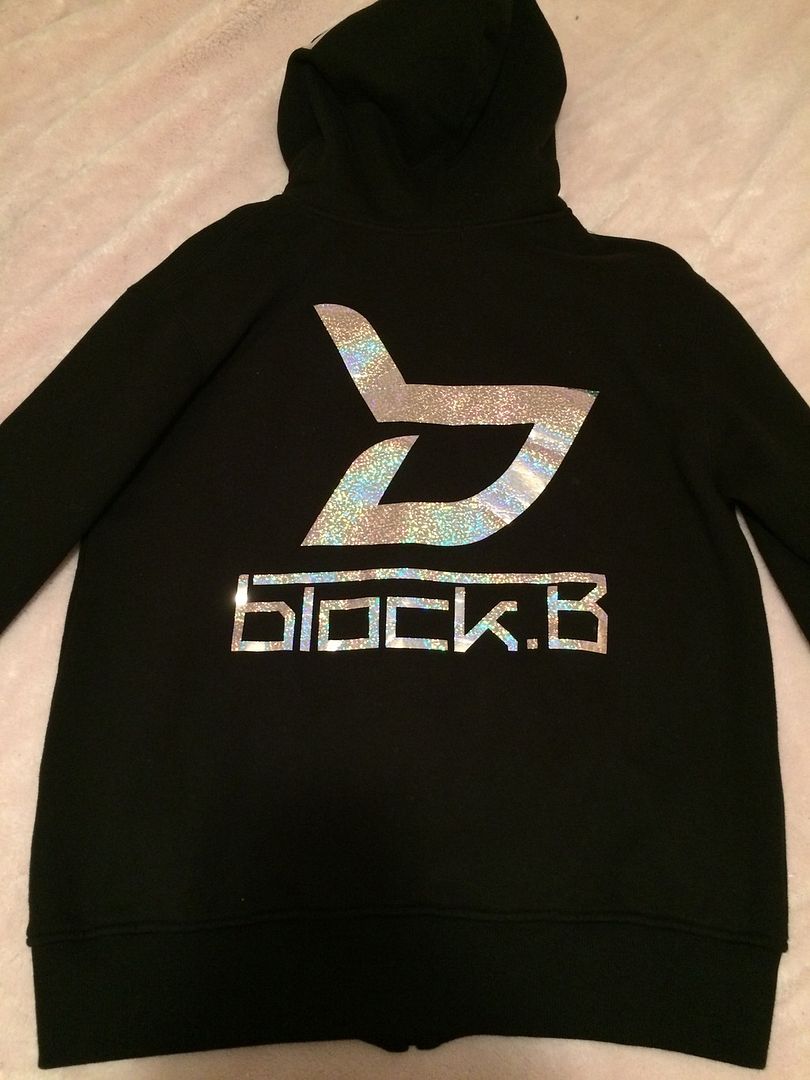 Detail:
[x]
[x]
Block B Very Good Showcase T-Shirt (Official Goods) $35
Very Good condition. ;) Lol but excellent condition, I only wore it once or twice.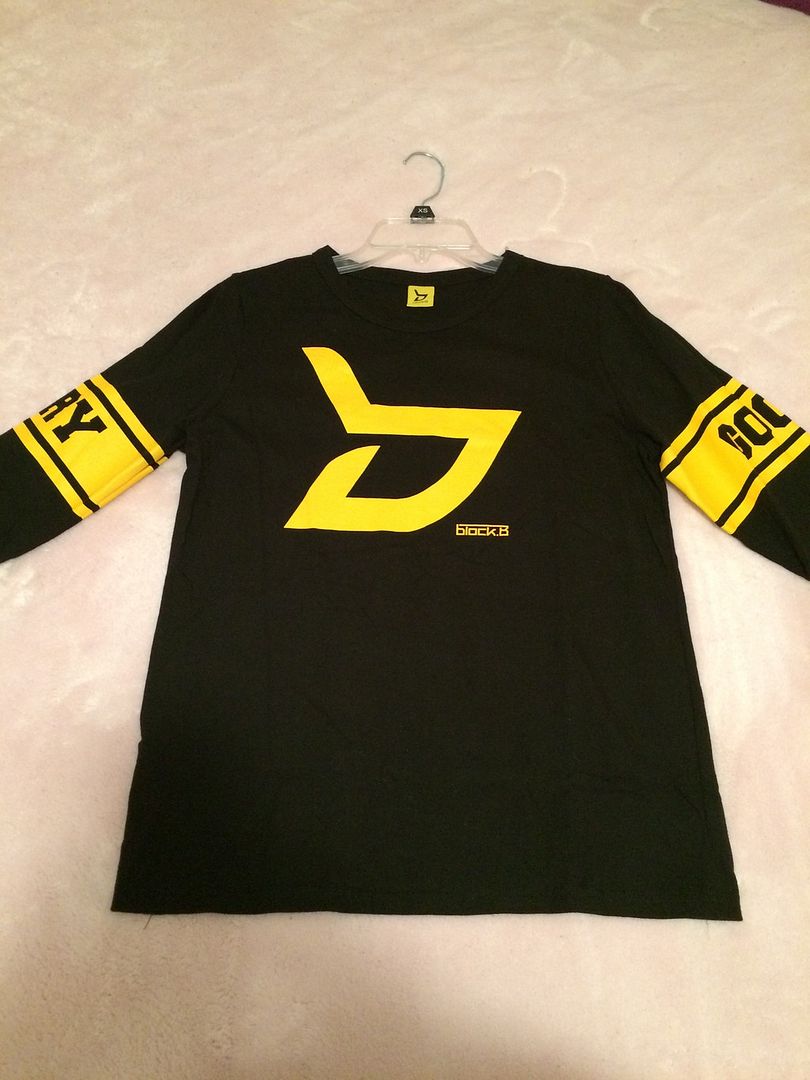 [Back]
EXO: (Photocard only $5)
Overdose Chinese Ver. with Kris photocard $8
Overdose Korean Ver. with Kai photocard $8
Miracles in December Korean Ver. with Lay snow globe card $8
Miracles in December Chinese Ver. with Luhan snow globe card $8
EXO-K MAMA with Chen photocard $7
EXO-M MAMA with D.O photocard $7
XOXO Chinese Ver. with Xiumin photocard (black strip on the side has a spot where it's bent)
[Damage]
$5
XOXO Korean Ver. with Chanyeol photocard $7
XOXO Repackage Growl Korean Ver. with Baekhyun photocard $15
XOXO Repackage Growl Chinese Ver. with Suho photocard $15
I also have an E-X-O two-fingered RING if you're interested! I just need to find it first lol. Would be for $5.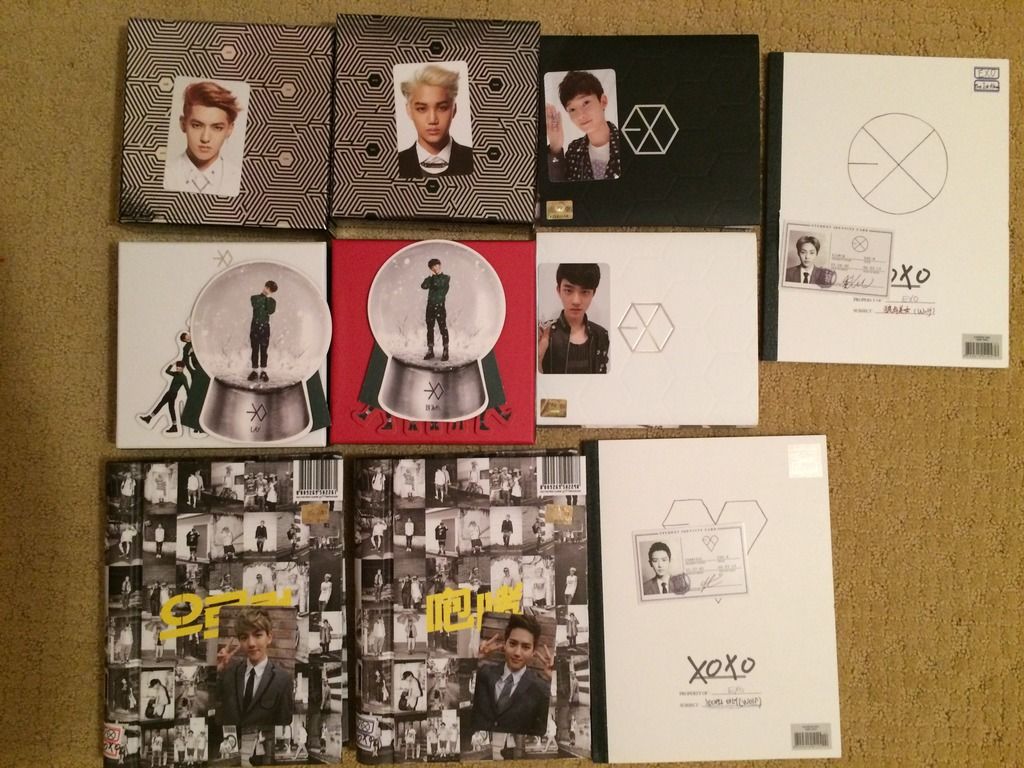 EXO First Box $20 I have 2 of the earphone winders if you just want that. Would be for $5!
(Random sorry lol) G.NA BLOOM $5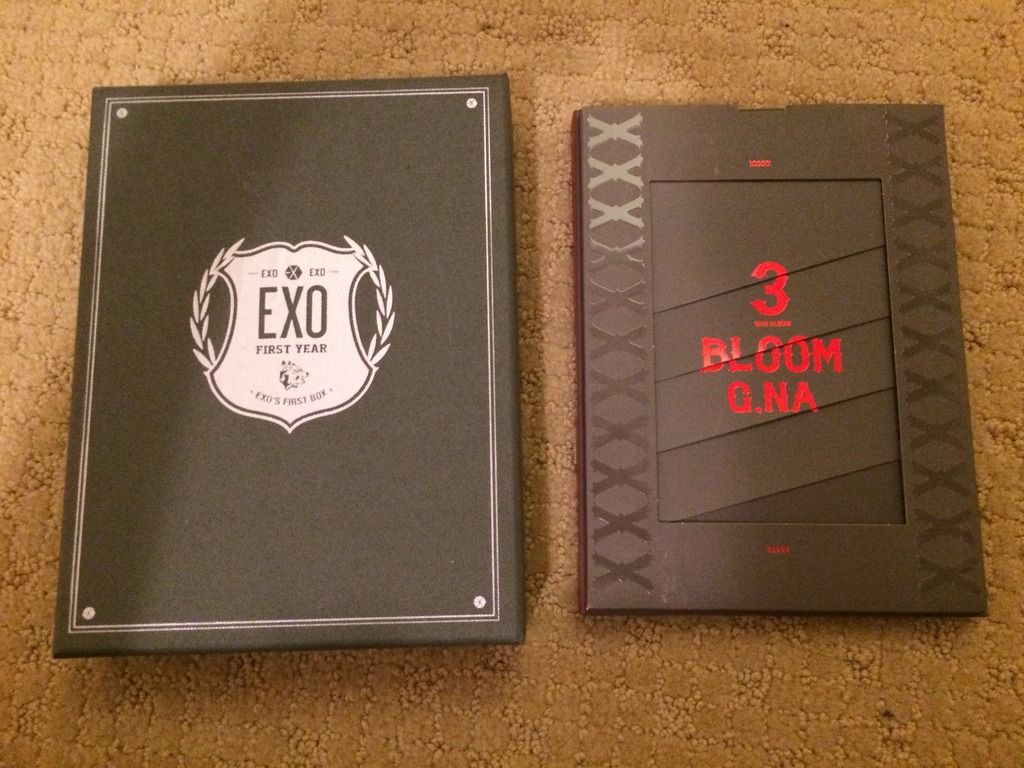 B.A.P: (Not separating the signed CD's card, sorry!)
First Sensibility with Youngjae photocard $25 (Photocard only $10)
One Shot with Himchan photocard $12 Album has a small dent in the top left corner
[Dent]
(Photocard only $5)
Badman Signed by Youngjae (bought at BAP LIVE ON EARTH 2014 in Dallas) $45
[Close-Up]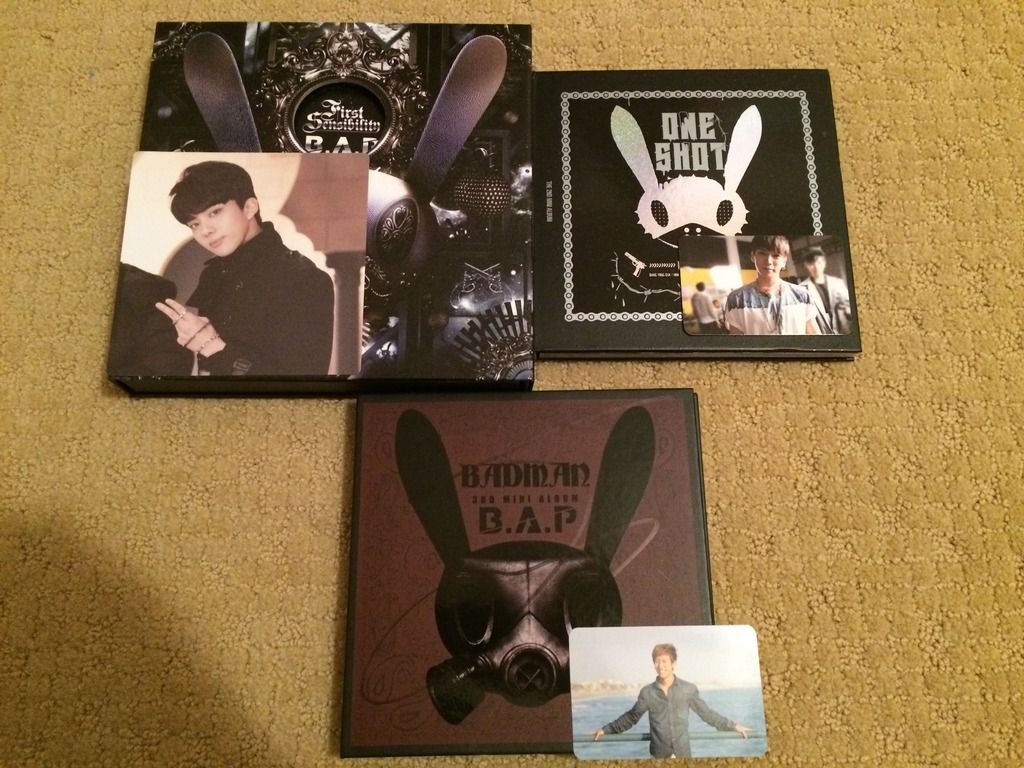 B.A.P Official Slogan $5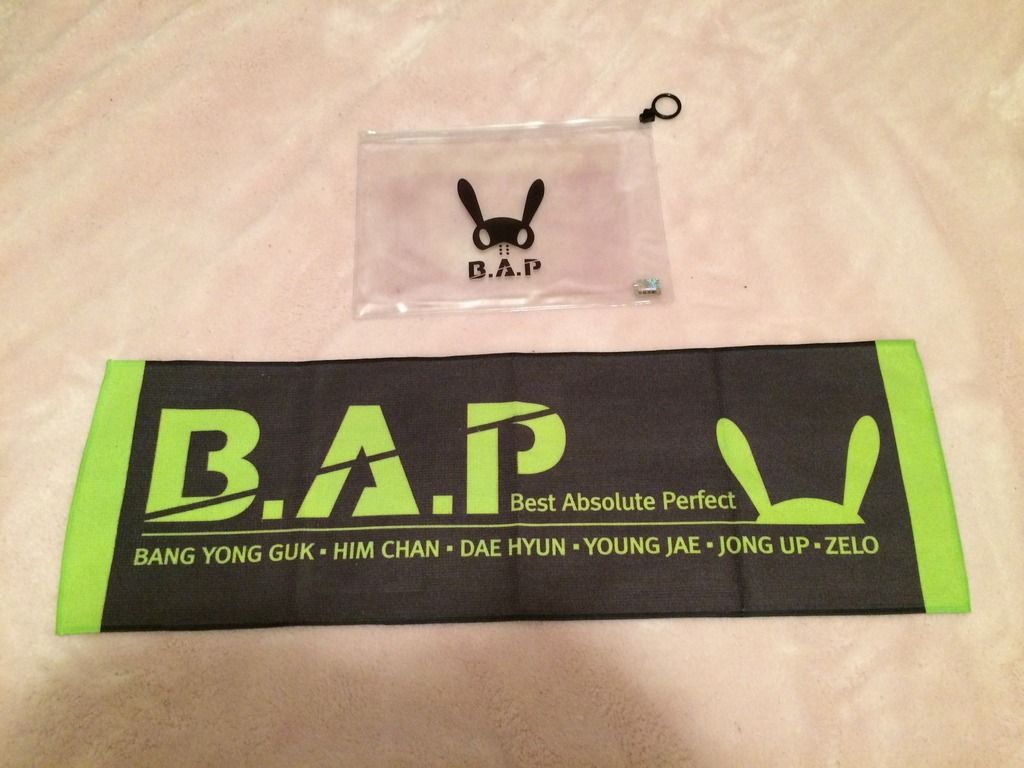 B.A.P LIVE ON EARTH 2014 Official Tour T-Shirt $30
Bought at the Dallas show. Excellent condition, I only wore it once.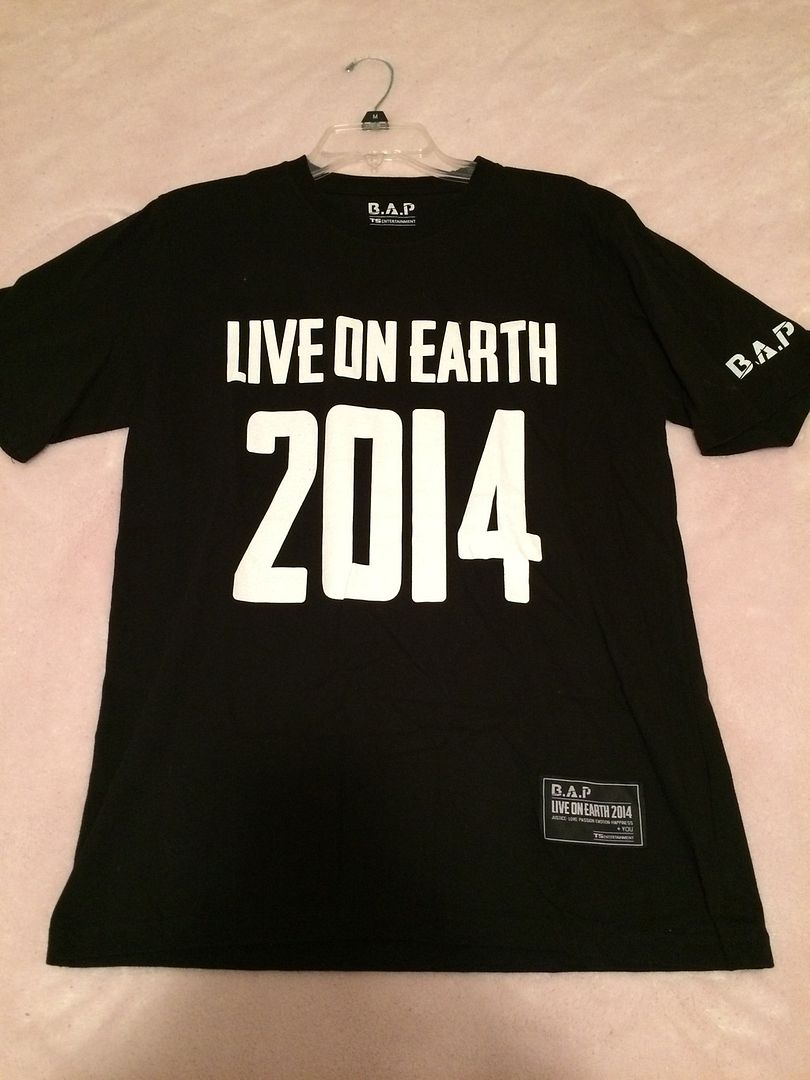 [Back]
VIXX:
VIXX Boys' Record Photocards
Hongbin black and white $5 Has some damage, looks like a circle-shaped dent.
[See Here]
Hongbin photocard x 2 $5 each
Hyuk large card $6
Hyuk photocard $5 (only 1 left)
Leo photocard $6
SOLD thanks!
Ravi photocard x3 $5 each
Album with no photocard is $5. Combo of album and both size cards is only $10!
[Proof of Albums]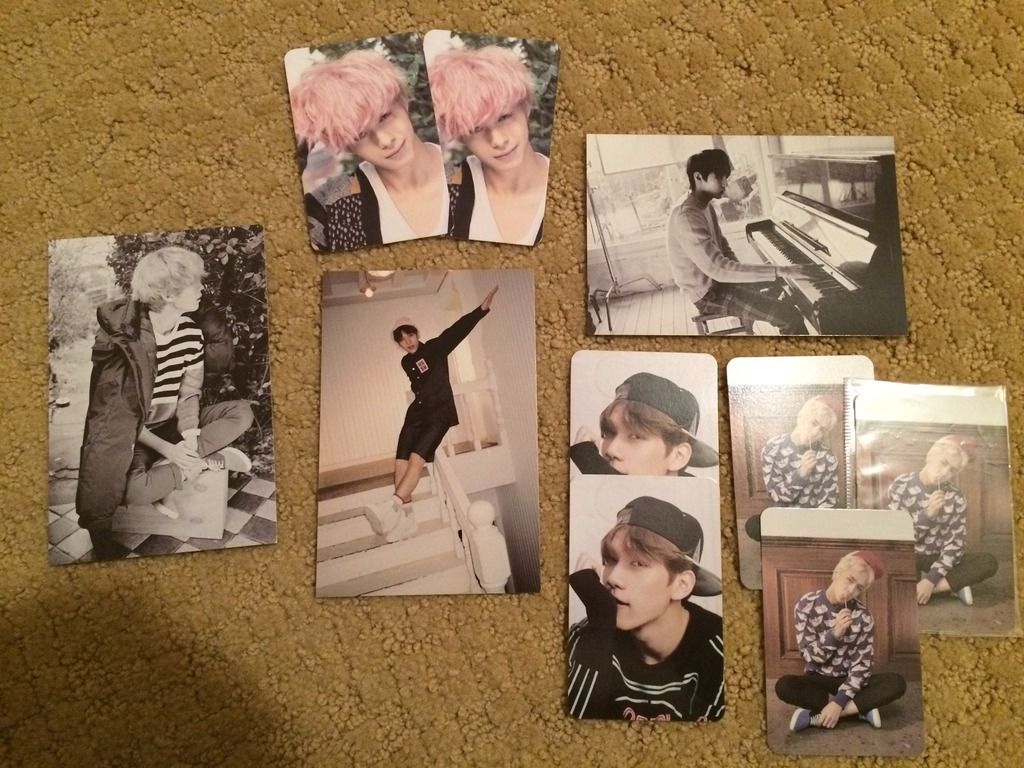 VIXX Error Japanese Version with Hakyeon photocard. Photocard only $5. Choose if you want the CD&DVD version or the CD only version. CD only + photocard $10. CD&DVD + photocard $15.
One CD only version left! Photocard is SOLD.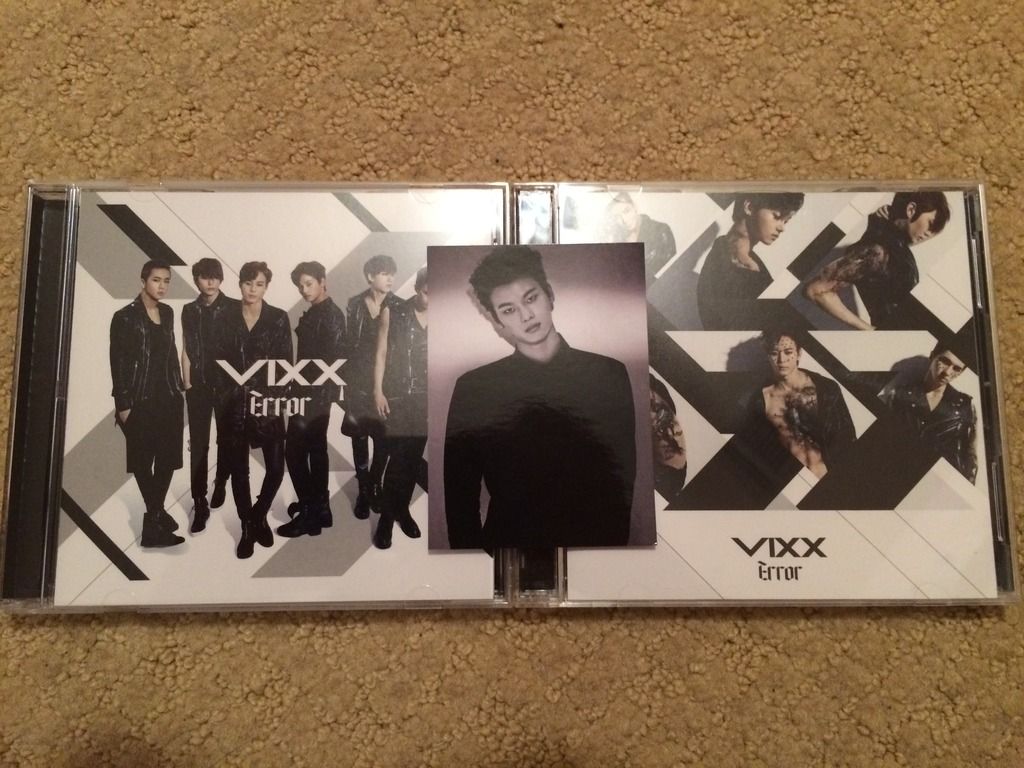 Misc. K-Pop
U-KISS NEVERLAND $5
Ailee A's Doll House $5
Ailee Invitation $5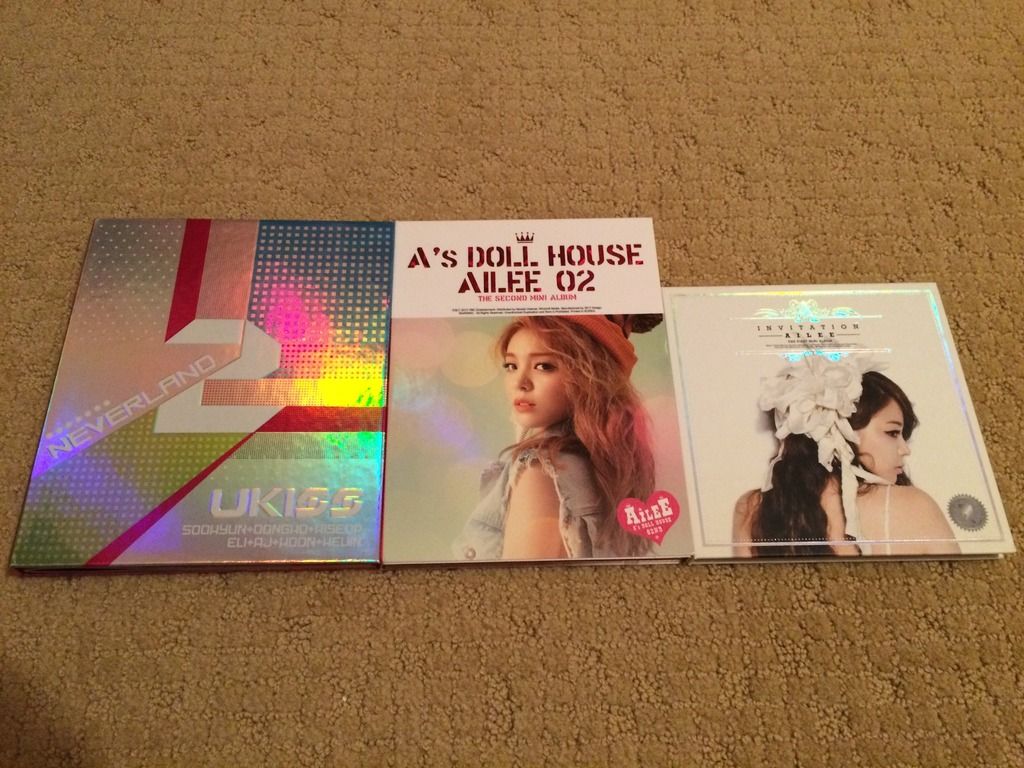 I also have a Boyfriend signed poster which I can add a photo for if anyone is interested! Would be for $10.
Visual Kei
I actually do have some posters of some of the groups here! Please ask for proof pics if you want a poster. Unsigned posters are free folded with any purchase. Unfolded posters will be shipped in a tube which will cost a bit more.
POSTERS:
D SIGNED POSTER $15 Signed at A-Kon 2011. Small size. Has small holes on each corner from being hung up.
Satsuki AWAKE small poster 2009 Free
Dio -Distraught Overlord- Signed Poster Large size. Oni-Con 2008 $15 Has holes from being hung up.
-OZ- Signed poster A-Kon 2012 Small size $15 Has holes from being hung up.
exist trace signed poster $15 Small size. Has holes from being hung up.
Visual Kei Assorted CDs
From top to bottom left to right:
ALSDEAD - Violent of Reason SIGNED 2009 with guitar pick $15
ALSDEAD - S.a.g.A SIGNED 2009 $15
9GOATS BLACK OUT - TANATOS (full album) $15
GPKism Sublimis $5
hurts - Gankyu x Needle $10
Lycaon - Ambrosia $20
D - Dearest you SIGNED 2011 $35
LM.C - Glitter Loud Box $5
lynch. - enemy $5
Sugar - rotten words SIGNED 2008 $15
born - with hate SIGNED 2009 $20
Kaya - Ophelia $10
vistlip THEATER with postcard - $20
Aicle - Psycho Letter w/ Ruby card $10
Canzel - L OVERS E.P. $10
BLACK LINE - LEGNA $10
Lycaon - Chains of Collar Making DVD $15
MANNEQUIN - Secret Making DVD $5
Satsuki - AWAKE SIGNED $35
Candy Spooky Theater - Living Dead Spooky Doll's Family $5 Cover is quite scratched up.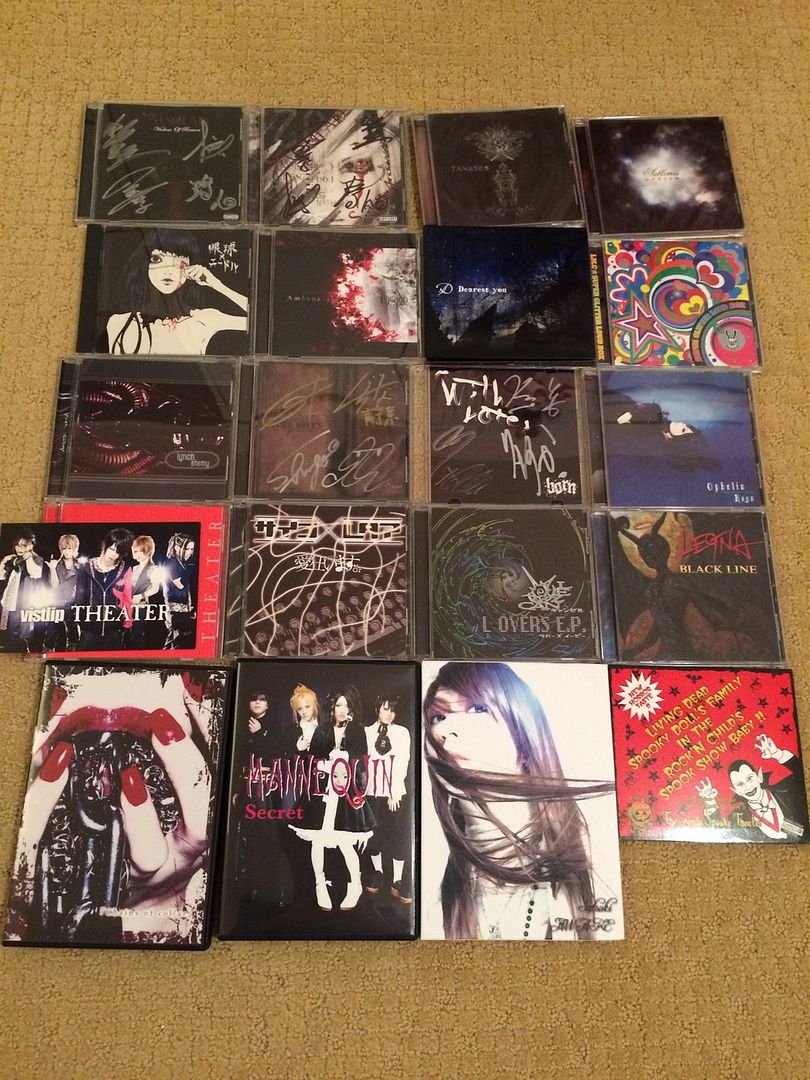 Visual Kei T-Shirts All Used Condition
BORN T-shirt. Quite used. It's from 2009. $10 If you're interested in the hand mirror, let me know.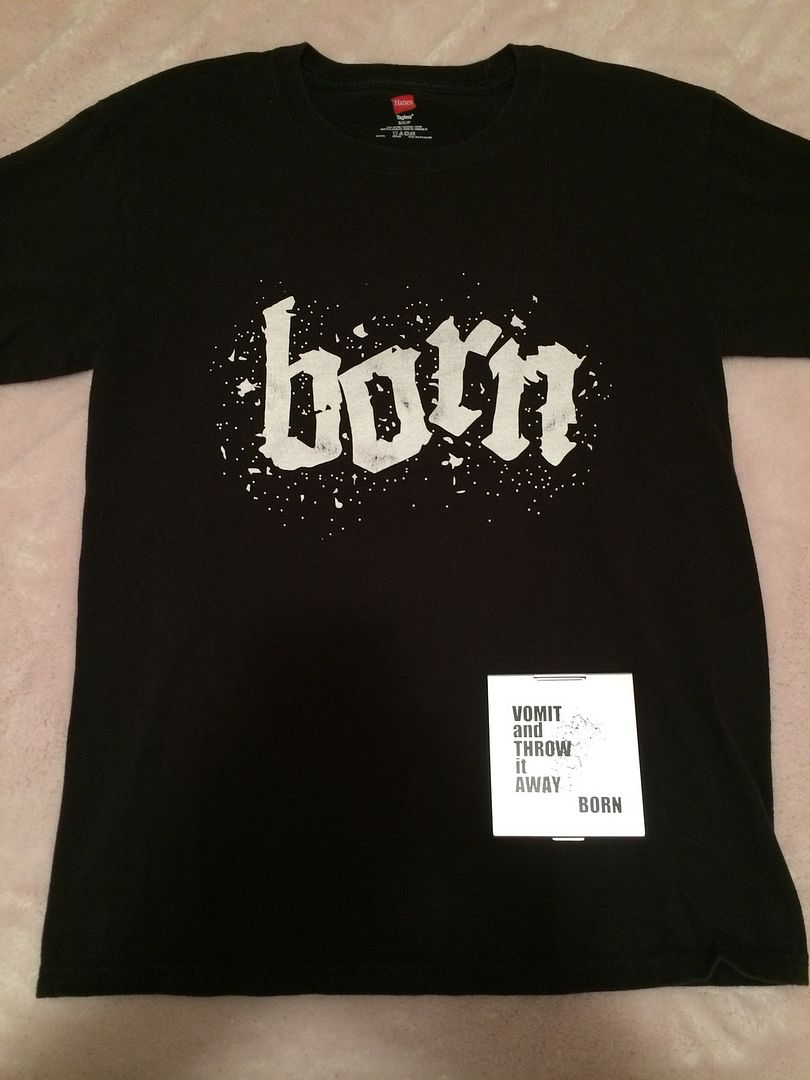 Satsuki T-Shirt 2009 Good Condition $10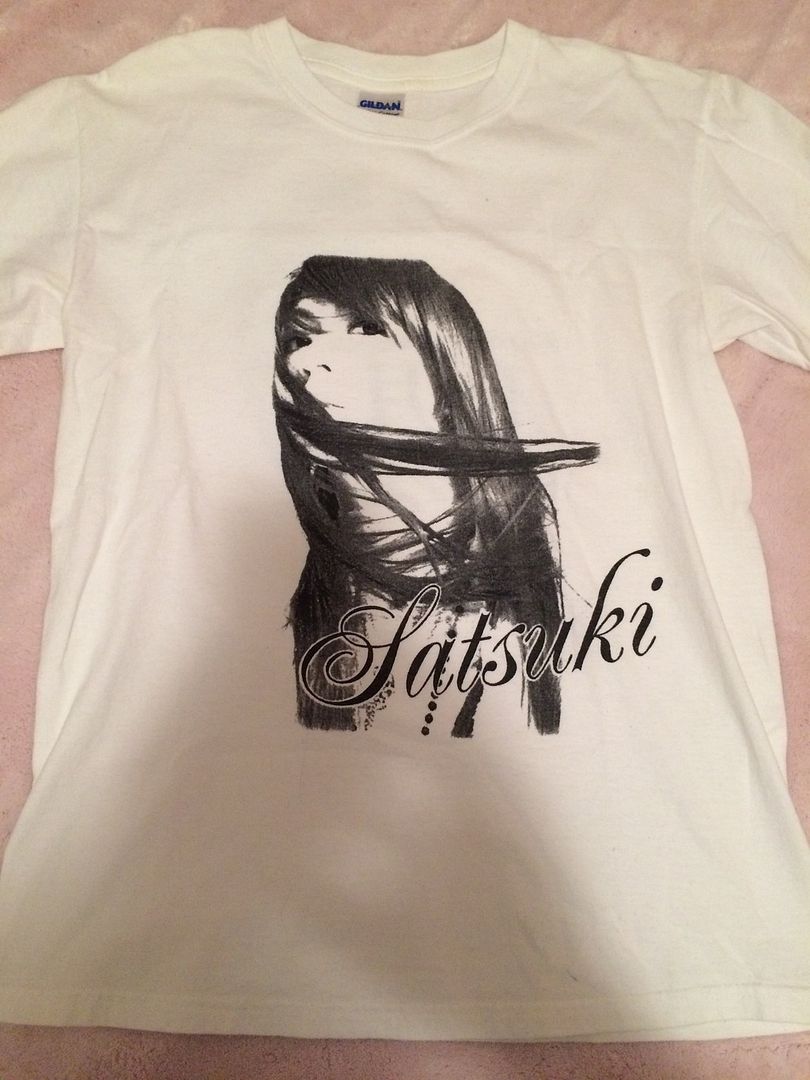 Dio -Distraught Overlord- T-Shirt 2008 Good Condition $10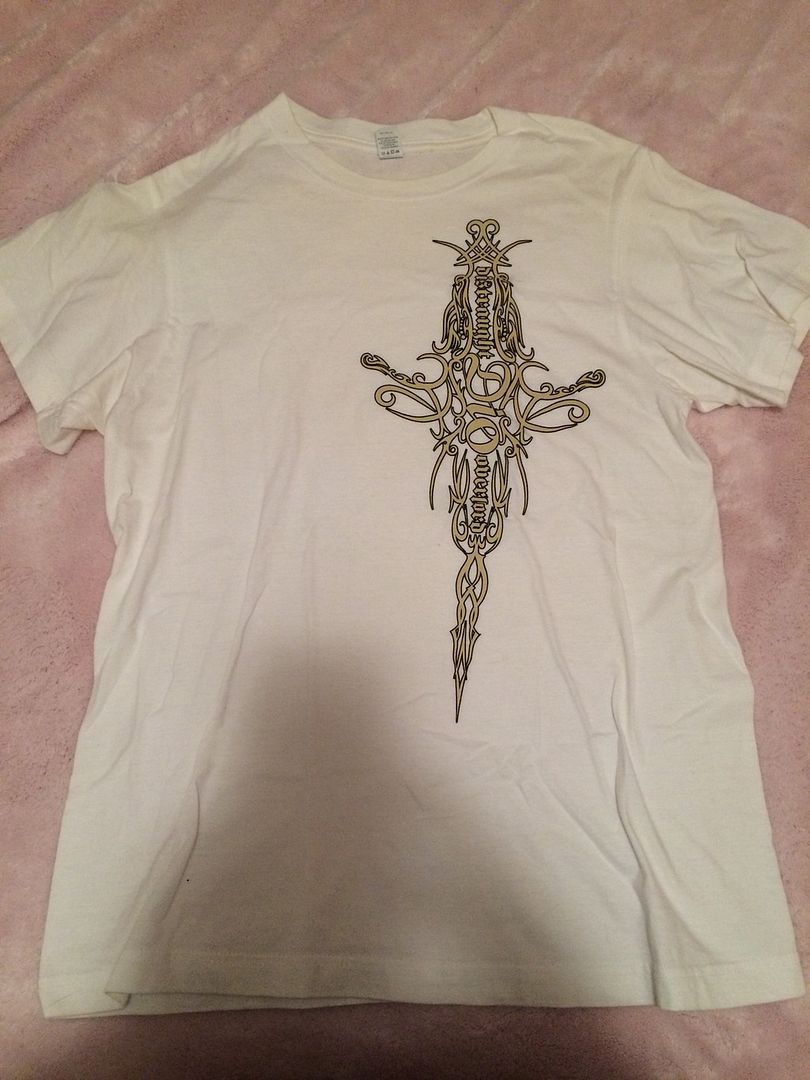 Magazines & Flyers
Top row all $2 (Nocturnal Bloodlust Gab x 2, グリーヴァ x DEZERT Gab, Vinyl Syndicate D Ruiza) except for Cure Magazine with AND-eccentric agent- on the cover - $10
Bottom row all $1 (Cure Mini Magazine 2009 featuring born and Satsuki, ensoku flyer, THE BLACK SWAN flyer)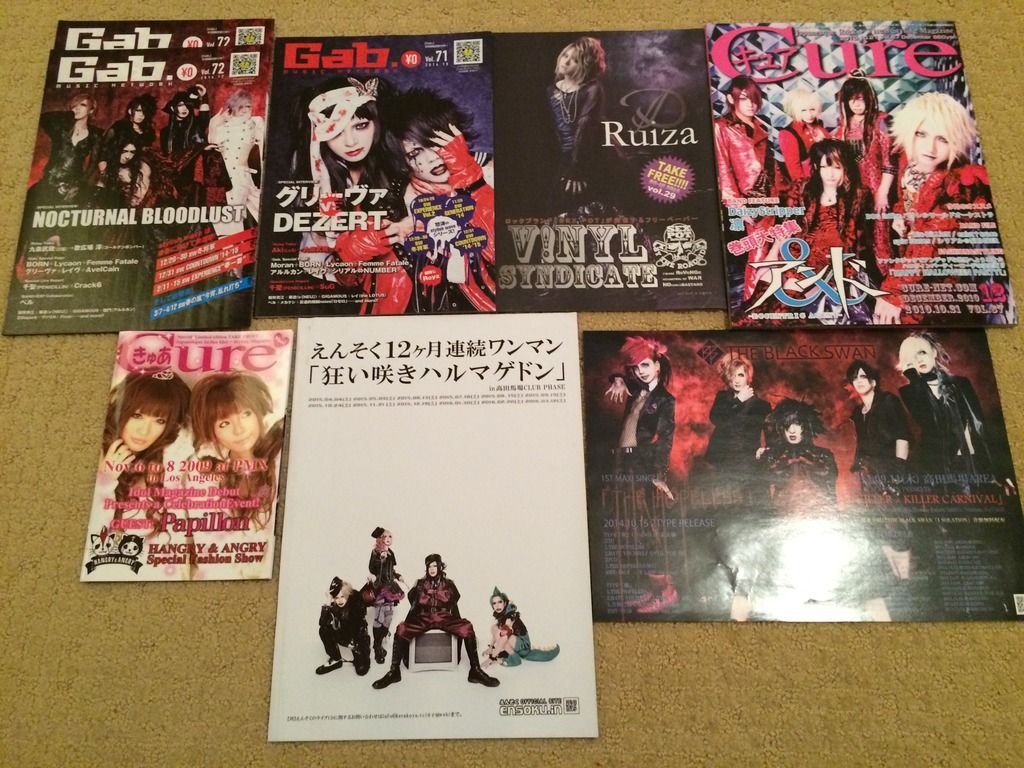 Vinyl Syndicates and one club Zy - all $2
top to bottom left to right:
Kamiji Yusuke (上地雄輔), MISTR, BugLug, Zoro (ゾロ), Nakamura Yuichi (中村優一), 12012, An Cafe, The Kiddie club Zy vol 008, Merry Gara (メリー ガラ)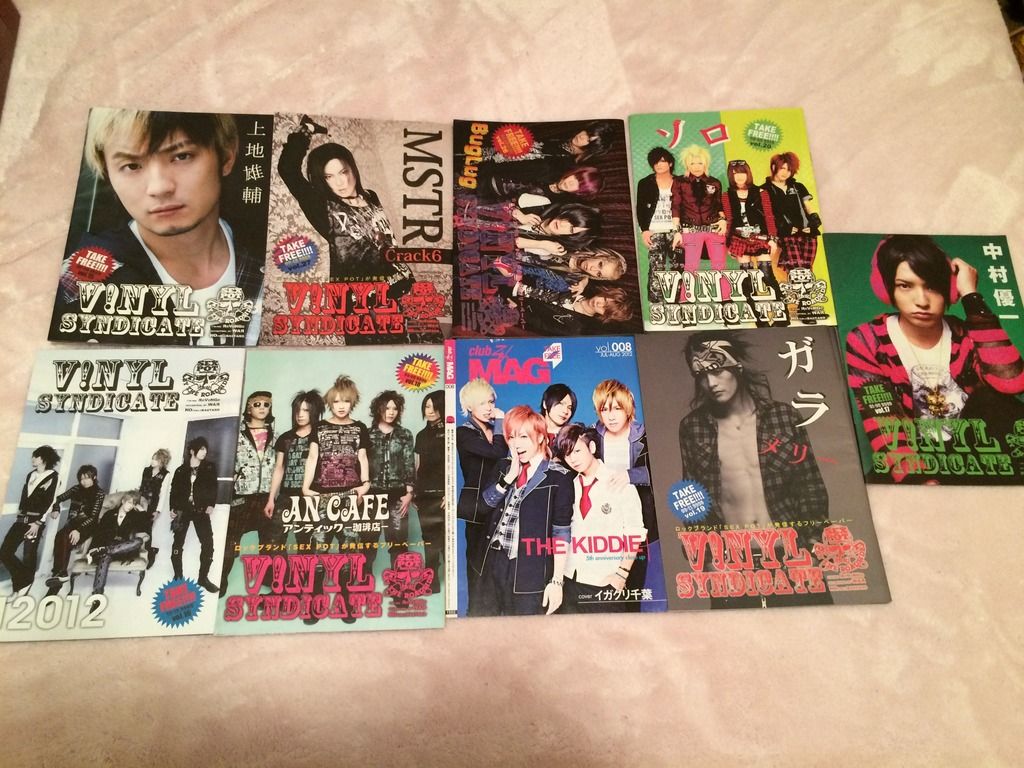 KERA Magazines all $10
Sorry they are out of order in the pic. I'll write them here in order from how they appear in the pic left to right top to bottom.
January 2013
February 2013
July 2013
June 2013
May 2013
April 2013
SOLD
August 2013
SOLD
September 2013
KERA BOKU Vol.3
April 2011
SOLD
December 2008 (Used Condition) - $7
January 2014
SOLD
April 2014
January 2015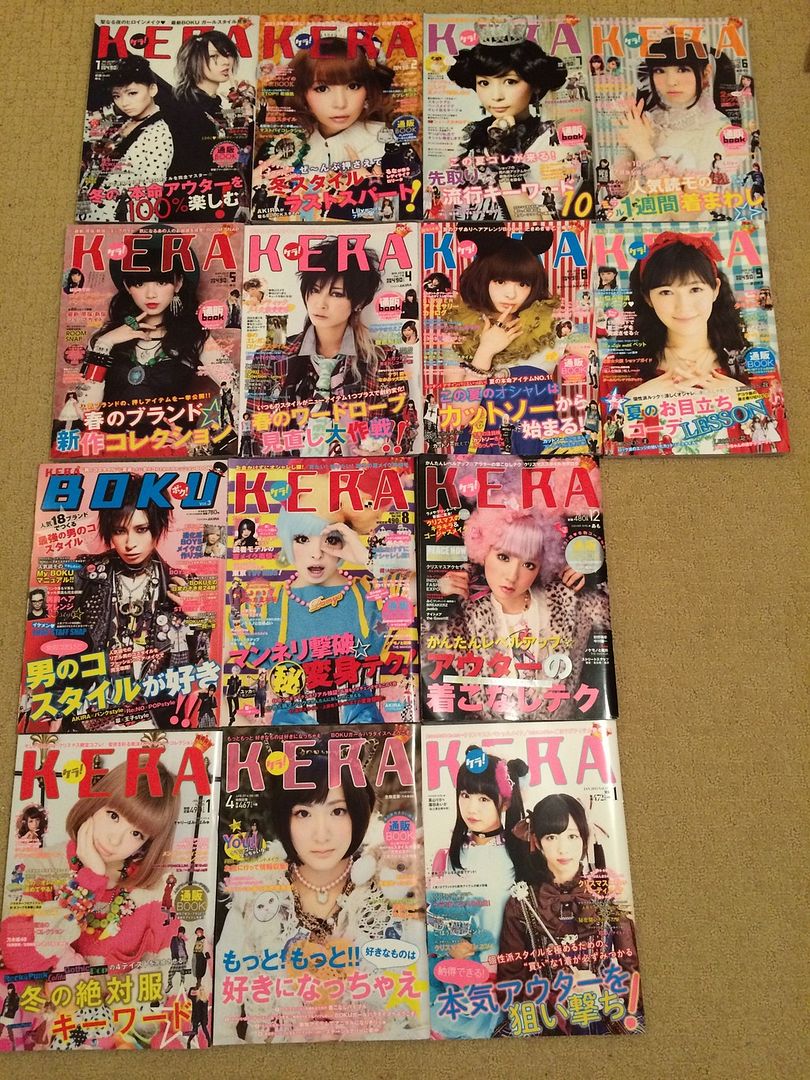 AYABIE Intetsu SIGNED photo BTSSB Tea Party 2010 $5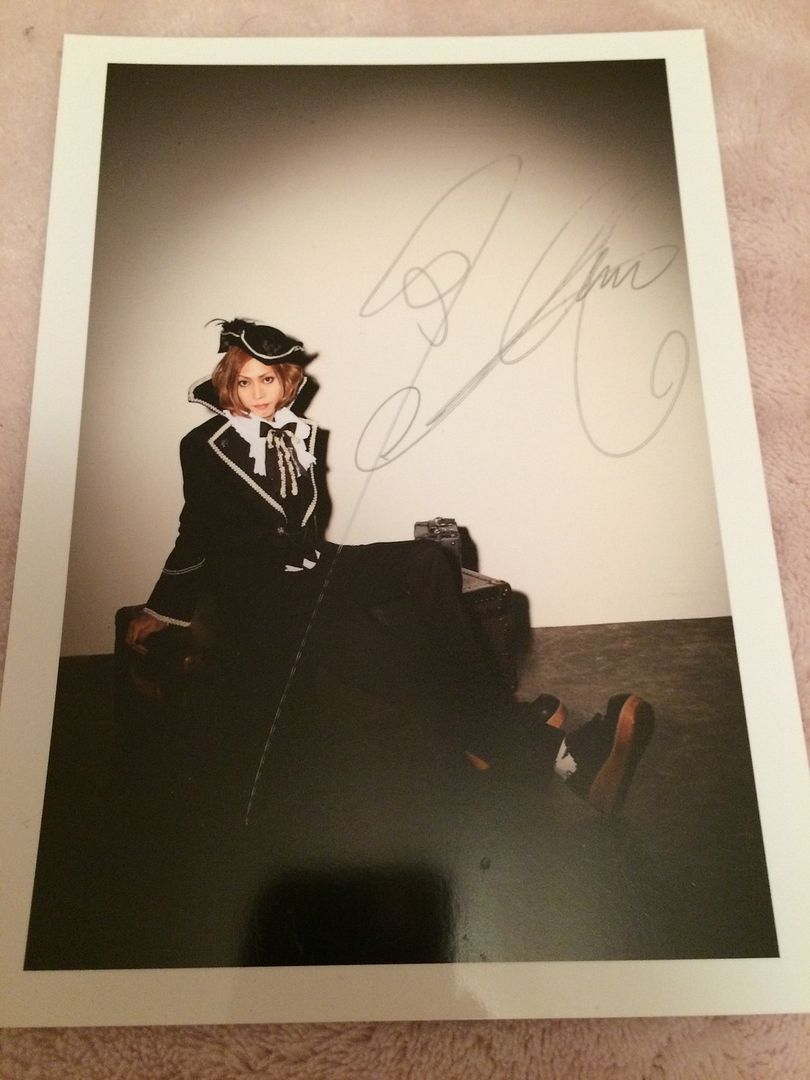 Thanks for looking!